The new MEDIOSTAR®
Innovation is more than new design. So we have designed the new MeDioStar® Monolith according to your wishes.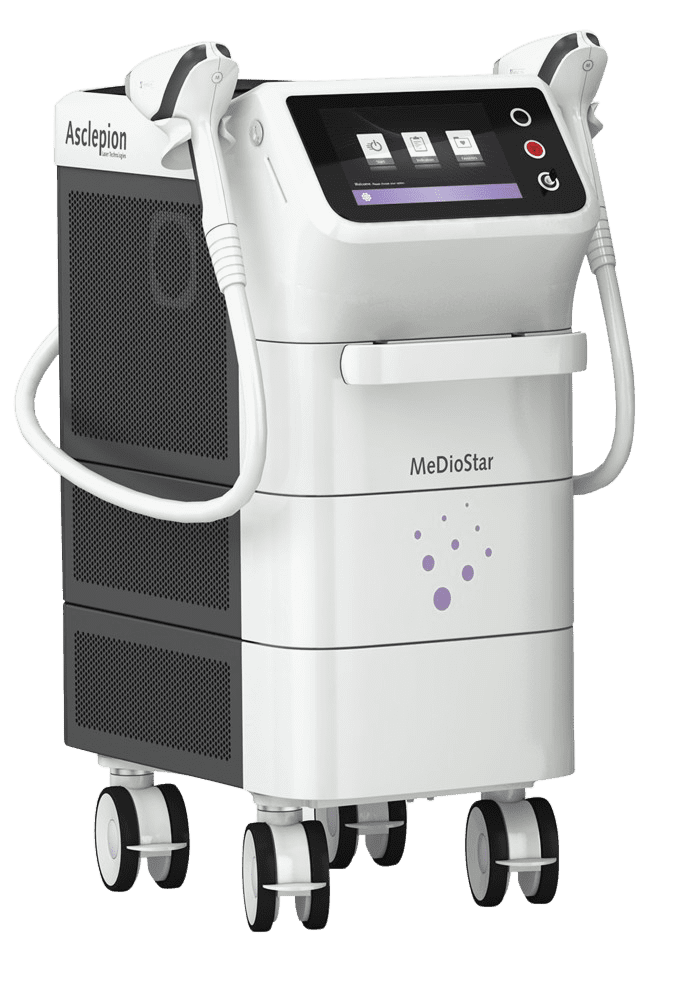 The completely redeveloped, modularly designed MeDioStar® offers more of everything. More power, more precision, more flexibility, and better service.
The new Monolith handpiece
There is a complete series of newly developed handpieces for our new MeDioStar®. Monolith – it's a byword for maximum stability, maximum power, intuitive operation and optimal control – for faster and more effective treatments than ever before.
The new MeDioStar® offers an innovative, easy-to-maintain and expandable modular design with an intuitive user interface, efficient skin cooling and a two-handpiece system. 'Made in Germany' innovation.
Multiply your treatment options with our new two-handpiece system and save time with multiple handpieces connected simultaneously.
From now on, the trolley is standard – with our Plug & Play modules, you can expand your range of treatments in the future in a flexible, personalised and optimum way.
Maximum manoeuvrability and better handling
New large and economic wheels make the MeDioStar® easy to transport. There's space for all your accessories on the rubber shelf.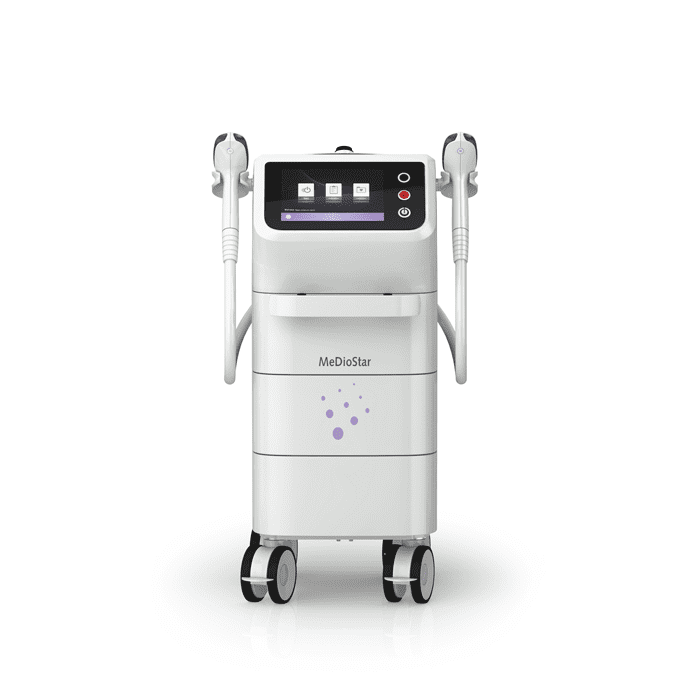 Ultra-sharp 10.1" LCD touchscreen display
A new, ultra-sharp and responsive 10.1" touchscreen LCD with a completely updated user interface allows intuitive and user-friendly operation.
New, highly-efficient device cooling
The new internal water cooling system allows for stable operation in all environmental conditions. Peltier elements in the Monolith handpiece ensure reliable skin cooling.
Revolutionised maintenance
Online remote maintenance not only provides fast system maintenance, but also shortens technical working time. This redefines the idea of service.
The new intuitive user interface
Clear symbols will guide you through the menu in simple steps. Touch operation and clear design mean beginners and professionals alike can quickly achieve good results.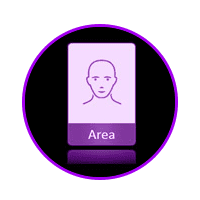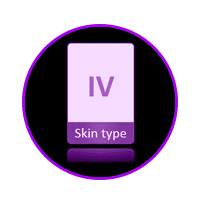 2. Skin type
select from I to VI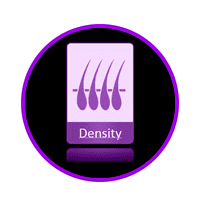 3. Hair density
low I medium I high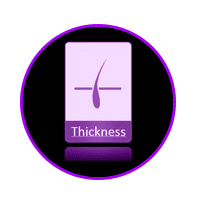 4. Hair thickness
thin I middle I thick
Ultimate power and effectiveness
We give new meaning to the word efficiency – our powerful laser ensures MeDioStar® is synonymous with high power and the shortest impulses. For you, this means highly-efficient, yet gentle treatment.
Online remote maintenance
Using a secure internet connection, we're by your side to help you solve problems via our online remote maintenance service, which can read errors, install updates and provide assistance.
Our new wireless foot switch with Bluetooth connection – convenient, secure, modern. If required, it can be practically stored in the holder on the device itself – for secure and convenient transport. A stable Bluetooth connection ensures smooth operation, while an LED display of the battery and connection status makes work safe and predictable.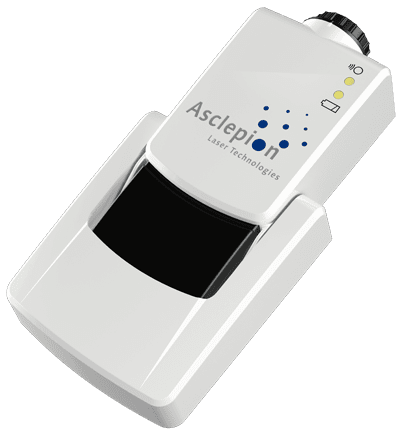 Not only technically capable and ergonomically functional, but also aesthetically pleasing and well-balanced – that's the new MeDioStar®.
Old versus new MeDioStar®
The new MeDioStar® offers more power, shorter pulses and higher speeds.
The device and handpiece cooling system is even more powerful.
Two handpieces can be connected simultaneously. The trolley is more flexible and will be able to be fitted with new high-tech modules in the future.
The new Monolith handpieces are stronger, lighter and more ergonomic.
The wireless foot switch is more convenient, while the new service features make the system even easier to maintain.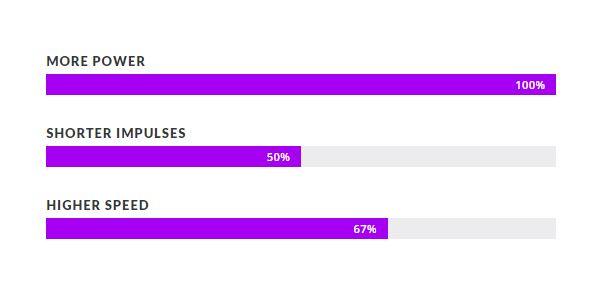 The permanent online service enables effective and fast remote maintenance, perfect service and regular software updates as well as secure storage of your data.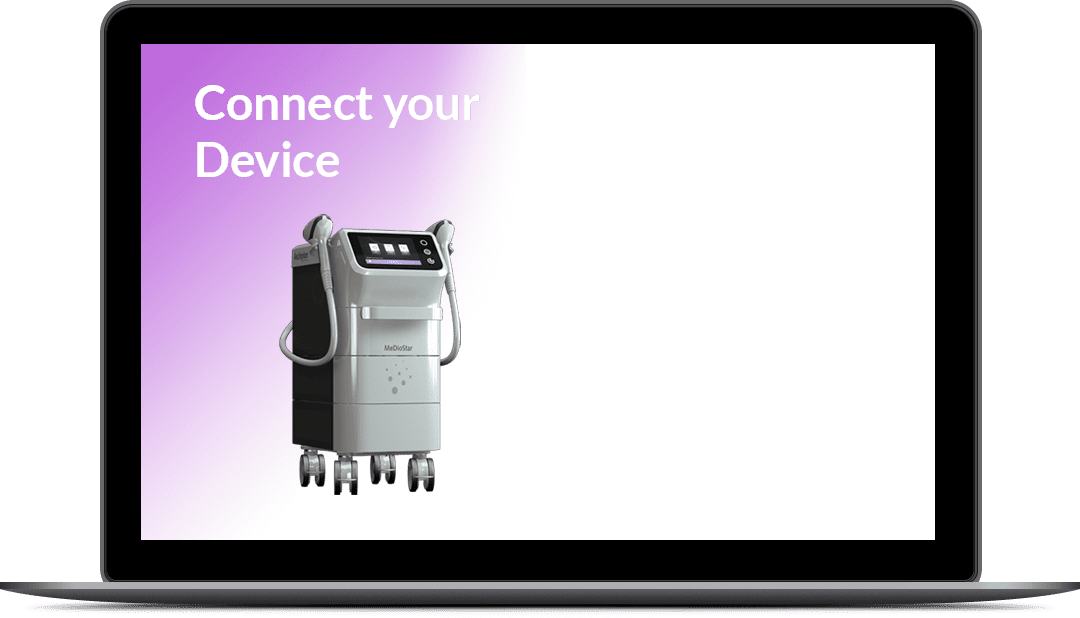 Better and faster service
A whole new dimension of service is guaranteed by our new online remote maintenance. We can help you rectify errors and problems quickly and easily.
Accurate and verifiable data
The online counters show every impulse and the exact laser time directly on the work screen – helping you with billing and maintenance intervals and giving you a clear overview.
Any improvement or corrective measure is quickly and efficiently installed on your system. This ensures your device is always up to date.
The new MeDioStar Monolith
A new innovation in hair removal designed according to the principle of "Selective Photothermolysis"
The New Monolith handpieces
All Monolith handpieces are moulded from one piece and have been designed from scratch. Perfect ergonomics allow for optimum handling and more effective treatments. They are lighter, more ergonomic, sturdier and more flexible than their predecessors. Compact, elegant, futuristic.
With a spot size of 1 cm² and up to 1,275 watts of power, the Monolith S is a simple and affordable starter kit for professional hair removal.
1.0 cm² spot size for high degree of accuracy
360° cooling system for reduced skin irritation
1,275 watts of power
810/940 nm.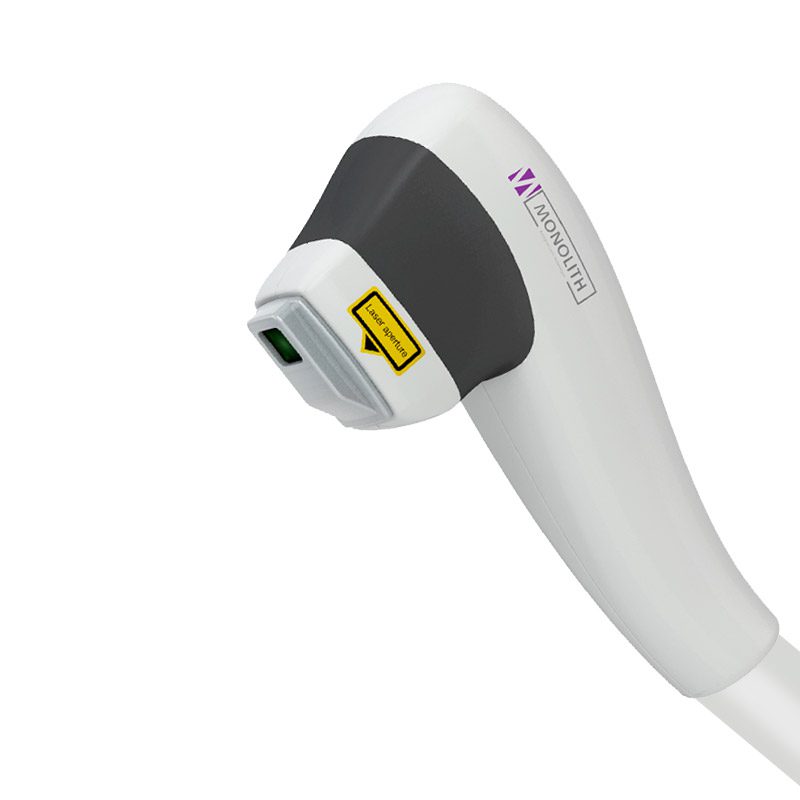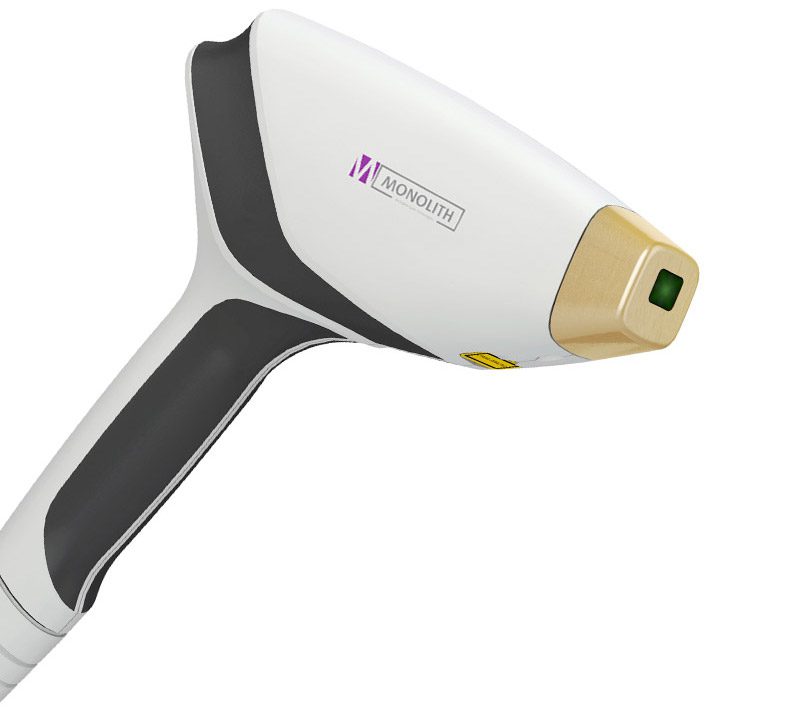 The Monolith M enables convenient handling for smaller areas
with a spot size of 1.5 cm² and a power of up to 1,700 watts.
1.5 cm² spot size for high degree of accuracy
360° cooling system for reduced skin irritation
1,700 watts of power, fast and efficient
810/940 nm.
The Monolith L, which has a spot size of 3 cm² and a power of up to 3,400 watts, is the best choice for fast treatment of small and large areas.
3.0 cm² spot size for efficient working
360° cooling system for reduced skin irritation
3,400 watts of power
810/940 nm.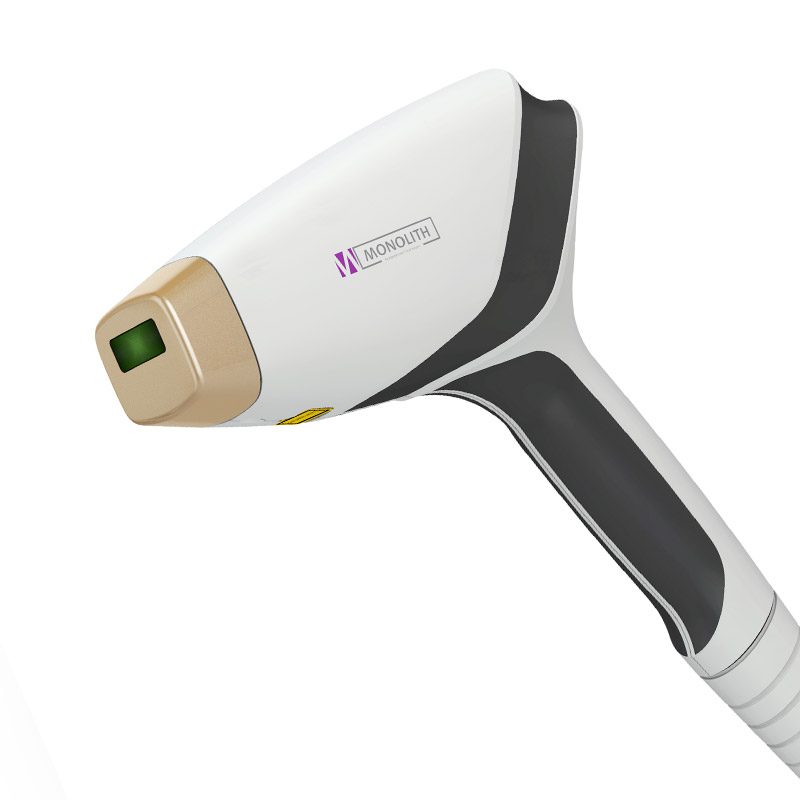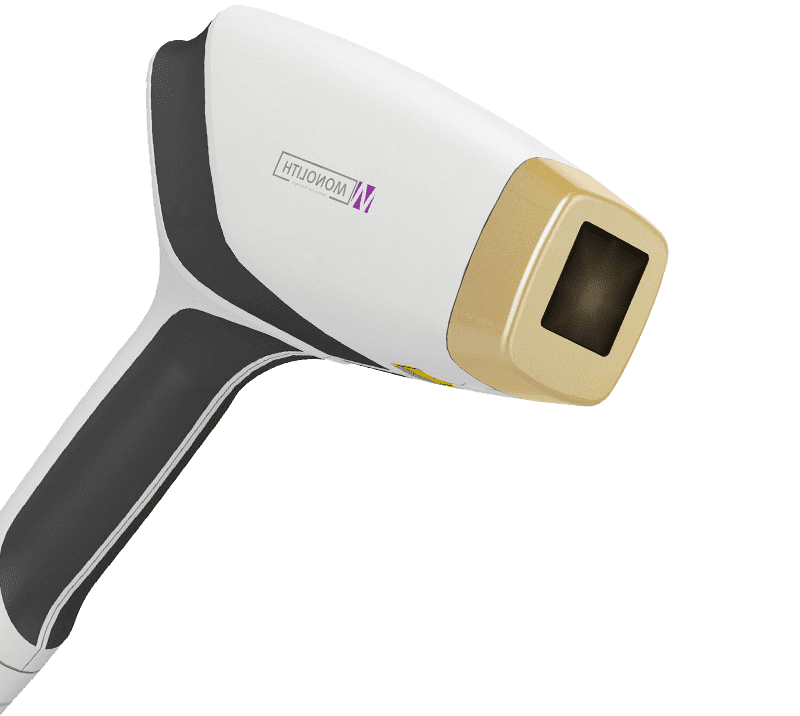 The Monolith XL offers the largest spot of 10 cm² and a power of up to 5,000 watts for the fastest epilation treatment for large areas such as backs, arms and legs.
10 cm² for fast epilation of large areas
360° cooling system for reduced skin irritation
5,000 watts of power, fast and efficient
810/940 nm.
All monolith handpieces are molded from a single mold, with their well-matched ergonomics enabling best manageability and more effective treatments than ever before.
The new, lightweight and ergonomic Monolith handpieces are setting new standards in aesthetic laser medicine, ensuring maximum stability. The most important performance data at a glance.
The most important features
The new, lightweight, ergonomic and stylish Monolith handpieces are setting new standards in aesthetic laser medicine, ensuring maximum stability. The perfect tool for every user's day-to-day work.
The 360° contact skin cooling system cools the epidermis very efficiently, protects the skin from burns and enables treatment in any direction. This makes treatment more pleasant and gentle for the client.
The MeDioStar® was developed as a table-top system and was fitted with a unique and multifunctional trolley. The trolley completes the MeDioStar's visually appealing design and offers two storage compartments for additional accessories.
The one-of-a-kind diode technology with variable pulse length and highly efficient cooling system guarantees safe treatment of all skin types. With power of up to 5,000 watts and a spot size of 10 cm², the MeDioStar® also enables a greater penetration depth to destroy hair follicles.
The MeDioStar® has a 10.1" touchscreen liquid crystal display (LCD) featuring a redeveloped and intuitive user interface. Users can select between the menu for treatments and settings. There are suitable menus for beginners and professionals alike. 
The foot switch, which communicates directly with the system via Bluetooth, makes annoying tangled cables a thing of the past. The foot switch can be stored in the holder on the back of the MeDioStar® after treatment is complete.
The shockwatch sensor is now standard on all handpieces, ensuring optimal control and giving accurate insights into the condition of each individual Monolith. This helps you as a customer and improves our device service sustainably.
In the Optical Valley in Jena, Asclepion Laser Technologies GmbH plays a leading role in the scientific optics industry. Today, companies from more than 70 countries rely on Asclepion's years of 'Made in Germany' experience.
Asclepion has developed a flexible disposable cap to ensure the greatest possible level of hygiene during treatment. It individually adapts to each Monolith handpiece and can easily be applied to the handpiece tip before each treatment.
The file will be sent to your email
Mediostar® Monolith - Paper
Efficacy of diode laser (810 and 940 nm) for facial skin tightening
Mediostar® Monolith - Paper
Mediostar Monolith_Studies Book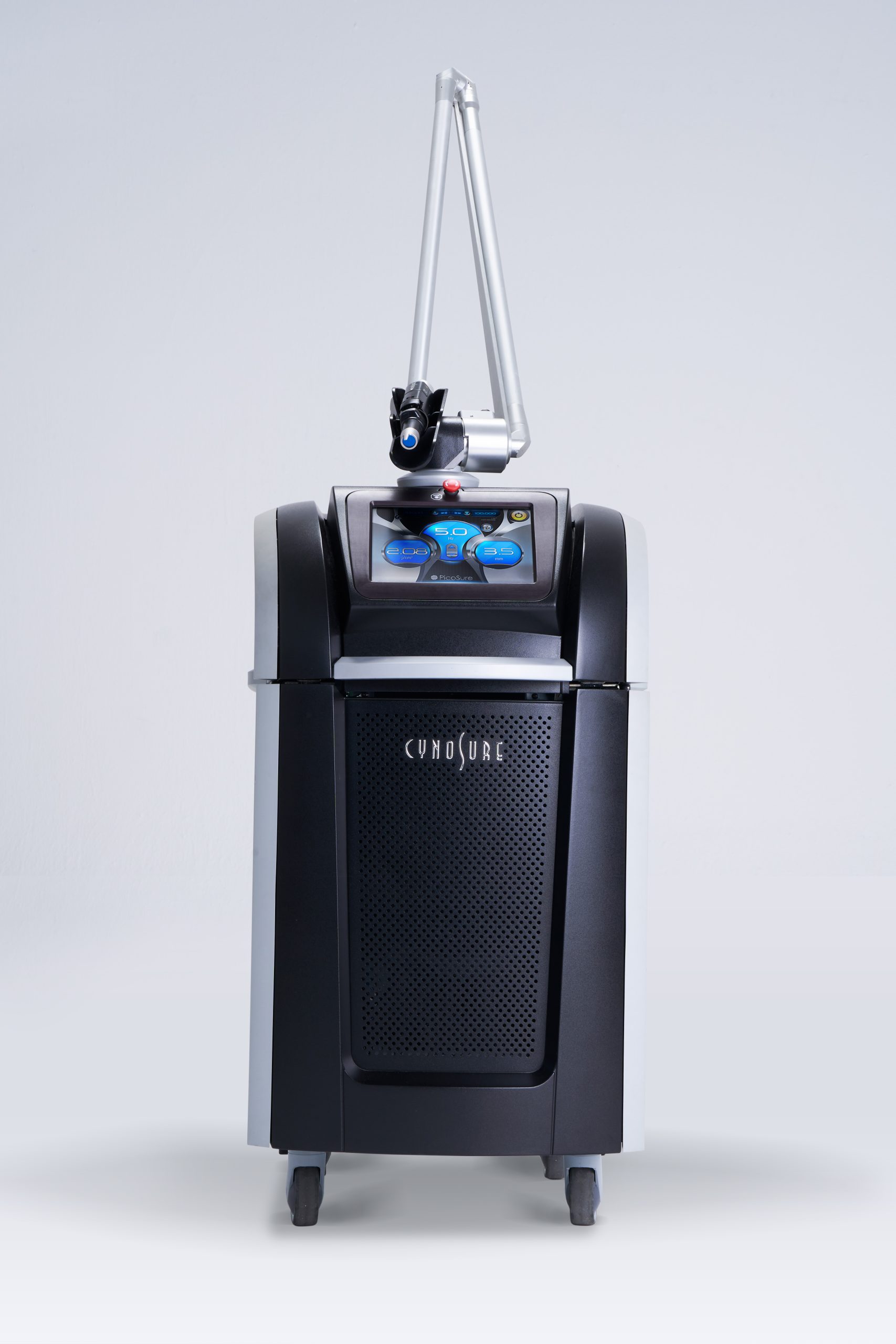 THE WORLD'S FIRST PICOSECOND TECHNOLOGY AND LEADING CHOICE FOR COMFORTABLE AND CONVENIENT TATTOO REMOVAL AND SKIN REVITALIZATION TREATMENTS FOR WRINKLES, ACNE SCARS AND PIGMENT LIKE FRECKLES, SUNSPOTS AND DISCOLORATION.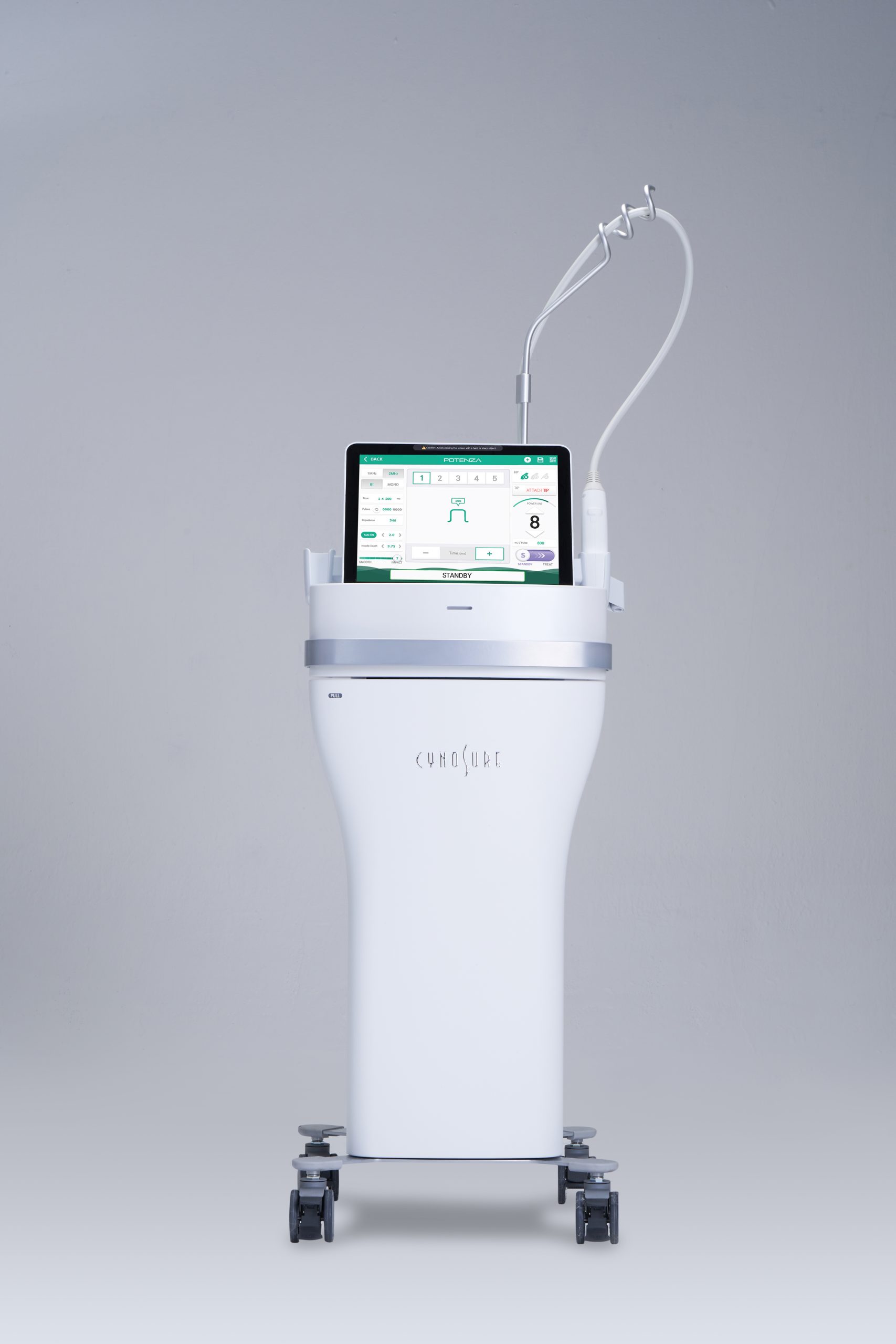 THE WORLD'S FIRST 4-MODE RF MICRONEEDLING SYSTEM THAT COMBINES MONOPOLAR AND BIPOLAR RF AT 1 OR 2MHZ FREQUENCIES IN A SINGLE DEVICE.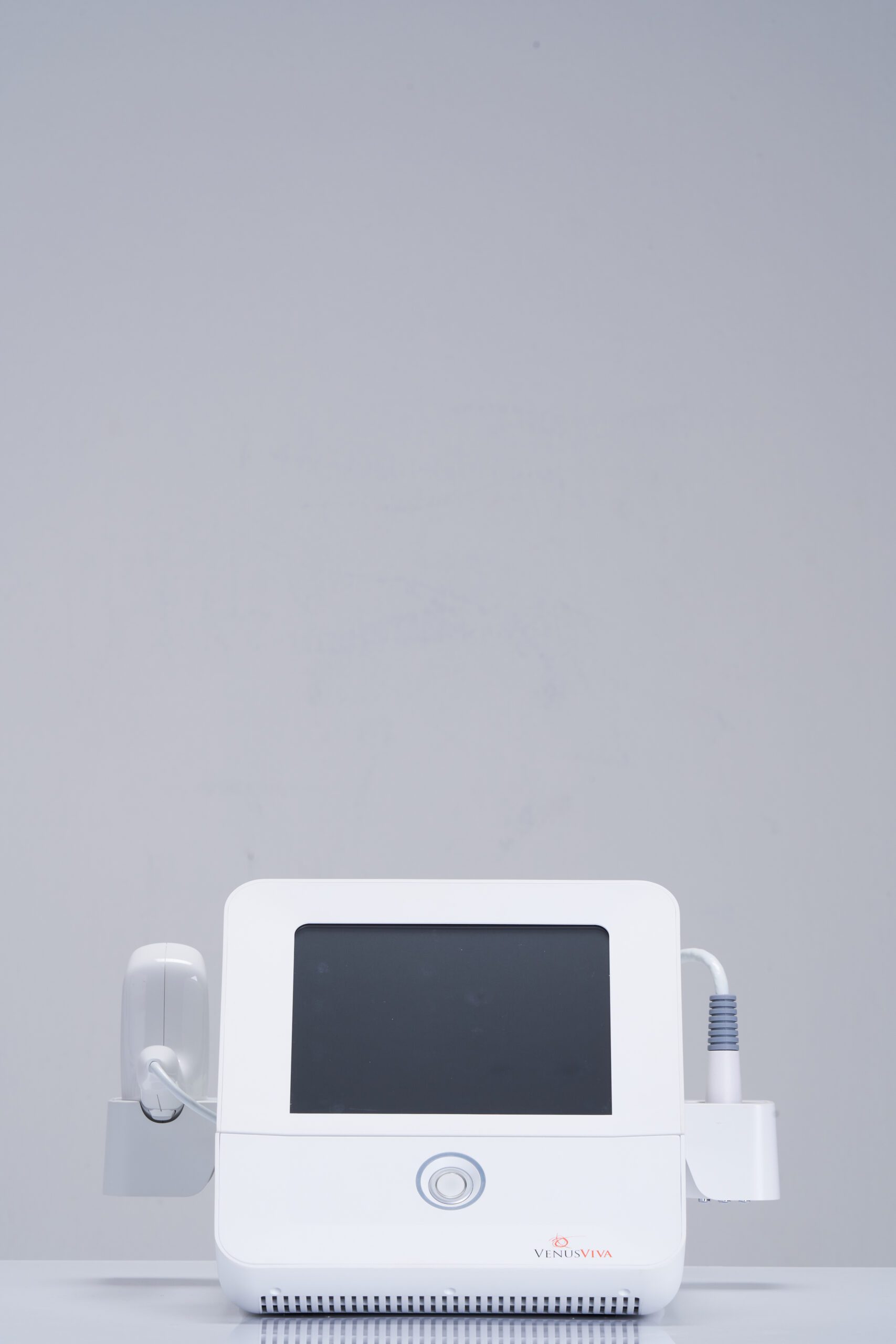 A HIGHLY CUSTOMIZABLE SKIN RESURFACING DEVICE THAT DELIVERS EXCEPTIONAL RESULTS WITH LOW DOWNTIME AND IS SAFE FOR ALL SKIN TYPES.
TO BOOK A CONSULTATION OR DEMO
PLEASE CONTACT US