The world's first picosecond aesthetic laser for skin revitalization and pigmentary treatments.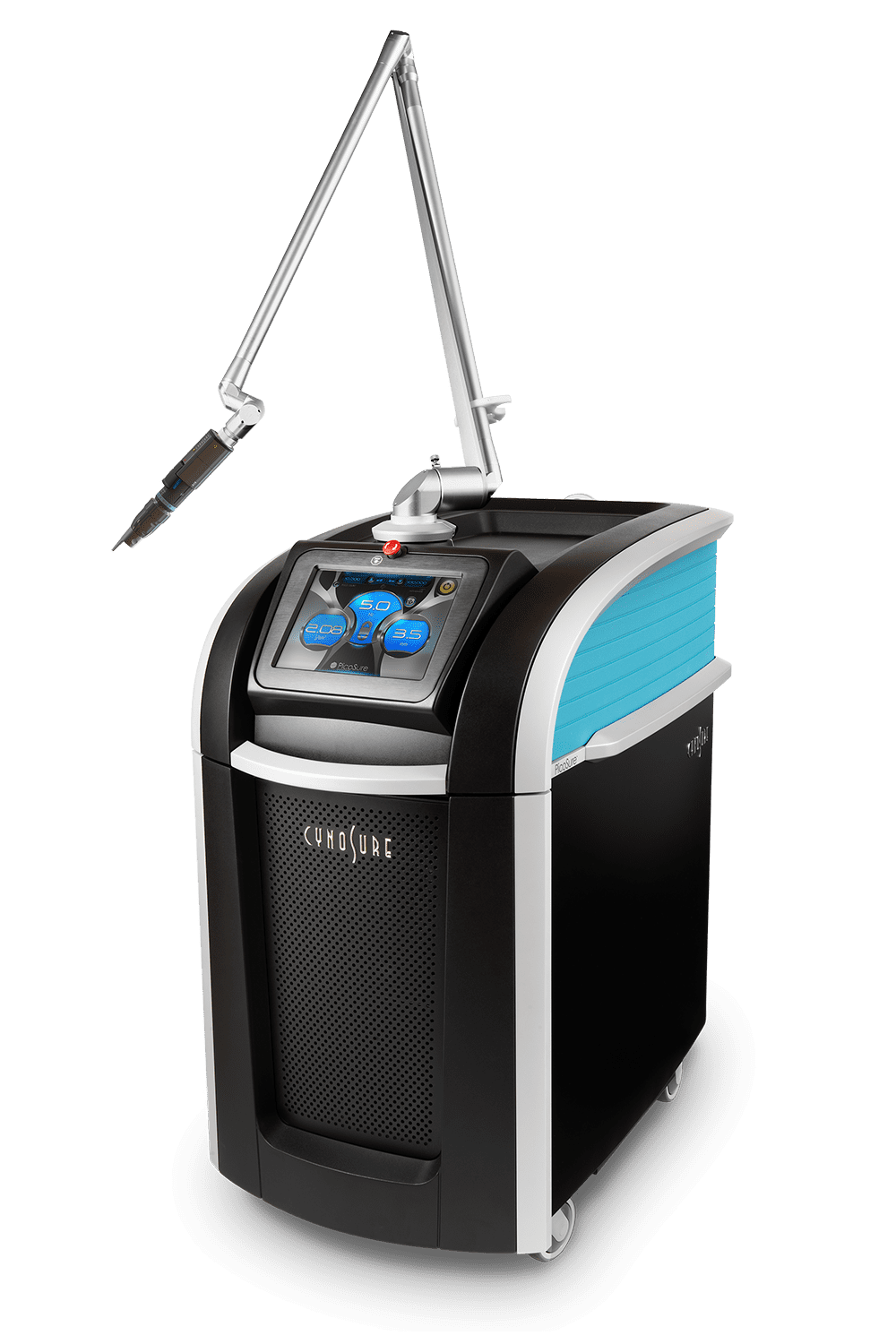 PicoSure - Tattoo removal and skin revitalization treatments
PicoSure – The world's first Picosecond technology and leading choice for comfortable and convenient tattoo removal and skin revitalization treatments for wrinkles, acne scars and pigment like freckles, sunspots and discoloration.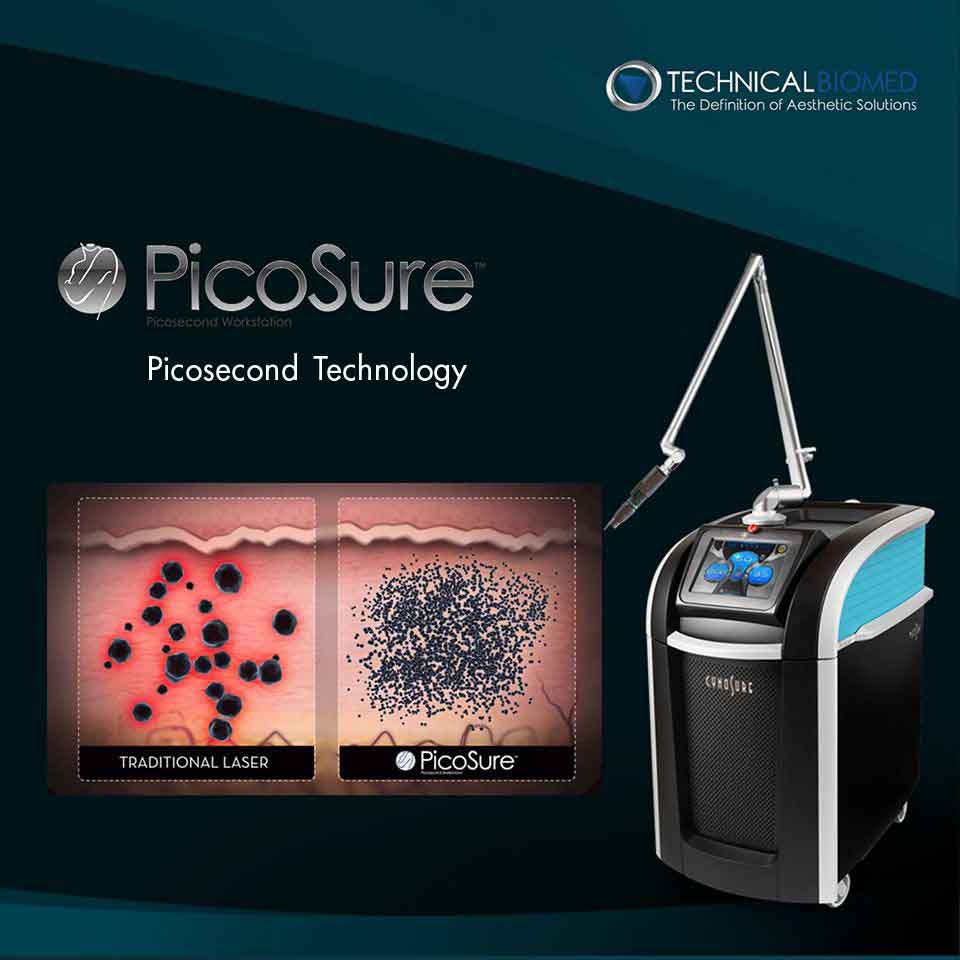 PicoSure is the first of a new generation of aesthetic lasers that don't rely solely on heat to burn or melt away unwanted tattoo ink or melanin, the pigment that causes dark spots in your skin.
Instead, PicoSure engineers used cutting edge physics and medical science to help practitioners treat patients in a new way. Instead of building up heat, PicoSure delivers energy so rapidly (in trillionths of a second) that tiny particles that make up pigment and tattoo ink vibrate and shatter, without burning surrounding tissue. Less heat means less tissue damage and discomfort.
Even more impressively, PicoSure's revolutionary technology is designed to harness the body's natural healing processes to restore youthful skin in ways never before possible. Using proprietary Focus lens technology, PicoSure effectively converts the laser energy into gentle pressure waves that activate Cell Signaling, the body's natural communication processes and one of the most exciting medical discoveries in recent history.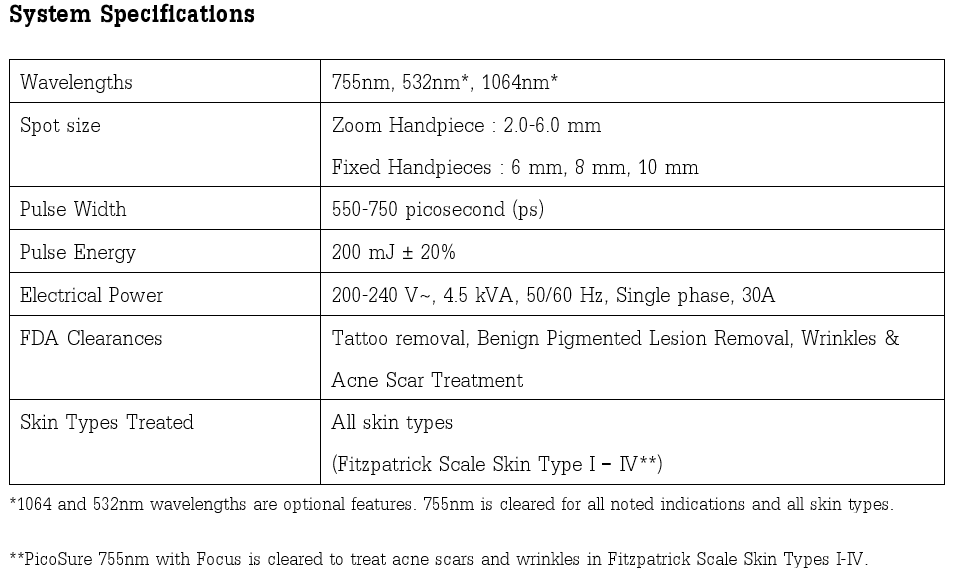 PicoSure – The world's first Picosecond technology
PicoSure laser – Super selective targets the pigmented lesions treats at three wavelengths: 532nm, 755nm, and 1064 nm, making it ideal for treatment of pigmentary conditions. With the addition of the Focus™ Lens Array, you'll be able to treat stubborn skin conditions in addition to removing tattoos.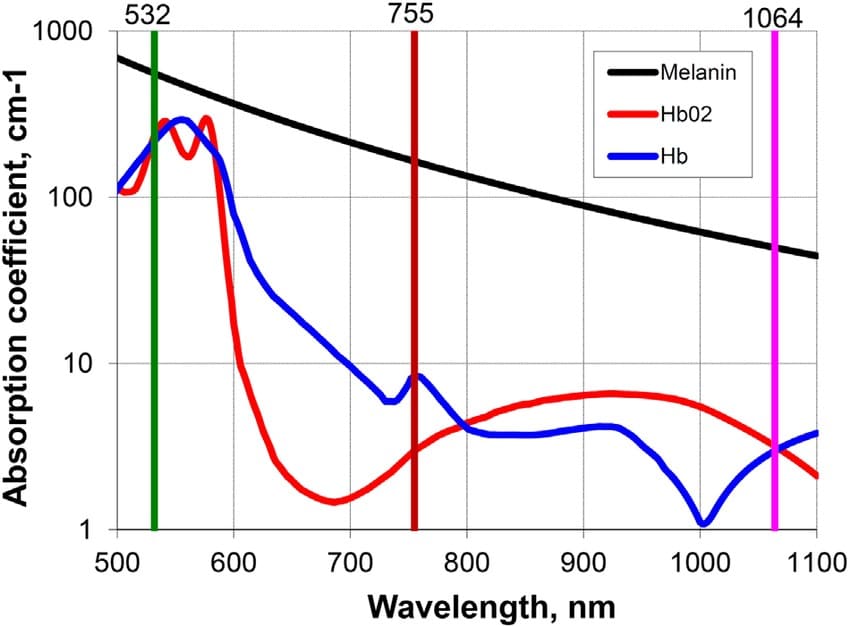 PicoSure's PressureWave™ technology uses a unique wavelength of light (755nm) and a specialized lens to convert laser energy into gentle pressure. This pressure squeezes cells, activating the natural cell signaling processes that create new collagen and elastin without burning or damaging the skin.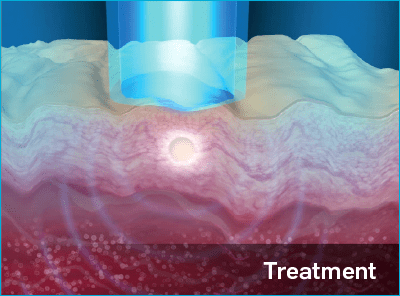 Illustration of PicoSure Focus Treatment
The Focus Lens Array delivers 20x the energy density of a normal PicoSure pulse to begin activating cell signaling.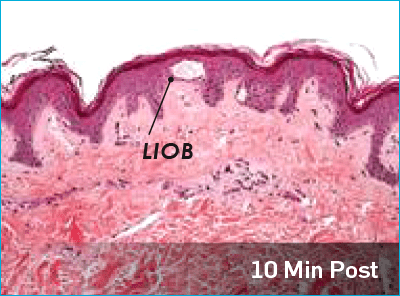 Histology photograph courtesy of Emil Tanghetti, MD
Intra-epidermal Laser Induced Optical Breakdowns (LIOBs) form and cause pressure waves that propagate into the dermis, triggering pressure injuries to activate cells.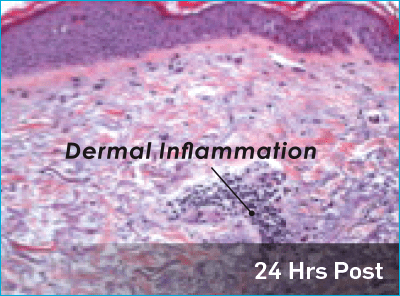 Histology photographs courtesy of Emil Tanghetti, MD
Cell signaling initiates an enhanced inflammatory healing response that leads to increased collagen and elastin and ultimately revitalizes skin.

Other lasers promise to treat wrinkles, acne scars and blemishes. But only PicoSure and its PressureWave technology can deliver impressive results without the inconvenience, pain and downtime of other procedures.
With PicoSure, there's no special prep and procedures typically take about 10-15 minutes. Most people experience no pain and describe treatments as feeling like the snapping of a rubber band, but your treatment provider may offer numbing cream to minimize any possible discomfort.
After treatment, most patients experience only 1-3 hours of minor swelling and redness. Because PicoSure doesn't burn and damage the surface of the skin, make-up, moisturizes and sun screens may be applied immediately following treatment.
With PicoSure, reducing unwanted wrinkles, acne scars and pigment is more convenient than ever before. Fast, gentle treatments mean you don't need to disrupt your busy life to achieve real improvements.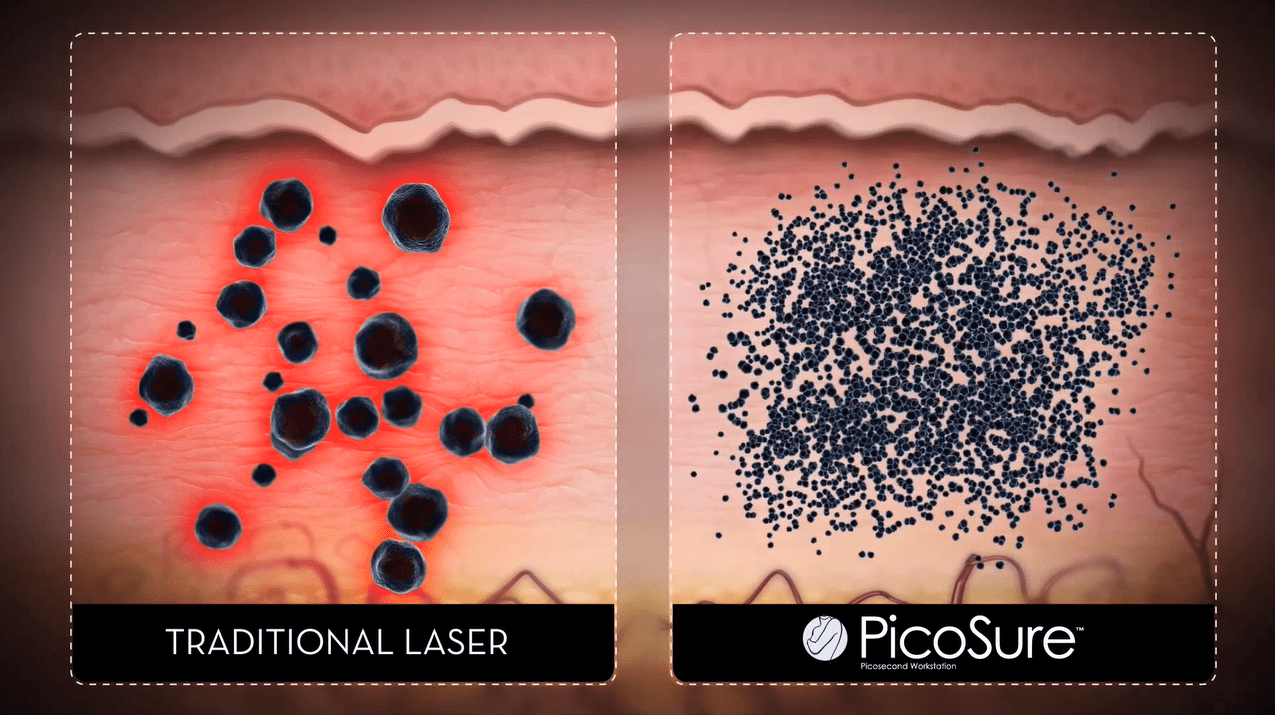 PicoSure is the world's first picosecond laser and the only advanced tattoo removal laser with PressureWave technology, which works with your body to remove unwanted ink. PicoSure delivers laser energy that specifically targets tattoo ink, resulting in the successful shattering of just the ink particles without harming the surrounding tissue.
PicoSure works effectively on:
Laser tattoo removal has been described as feeling similar to the actual tattooing process. PicoSure relies on pressure changes instead of just heat to break apart ink particles but some patients may feel some discomfort. Your treatment provider should be able to provide aids to make your experience more comfortable.
Patients and treatment providers have reported better clearance (disappearance) of tattoos with improved recovery time. You can expect excellent results with PicoSure.
The file will be sent to your email
Comparison of a Picosecond alexandrite laser versus a Q-switched alexandrite laser.
Comparison of the Cutaneous thermal signatures vver Twenty-Four Hours With a Picosecond Alexandrite Laser Using a Flat or Fractional Optic.
A Prospective, Split‐Face, Randomized Study Comparing a 755‐nm Picosecond Laser With and Without Diffractive Lens Array in the Treatment of Melasma in Asians.
Safety and Efficacy of a Novel Diffractive Lens Array Using Picosecond 755nm Alexandrite Laser for Treatment of Wrinkles.
Successful and Rapid Treatment of Blue and Green Tattoo Pigment With a Novel Picosecond Laser.
Treatment of Nevus of Ota With a Picosecond 755-nm Alexandrite Laser.
❝ เทคโนโลยี PicoSure ตัวนี้เราได้มีการศึกษาข้อมูลในคนเอเชียนานกว่า 5 ปี จนมั่นใจว่าได้ผล มีความมั่นใจ และคุ้มค่าแก่การรักษา ก็คิดว่าเป็นโอกาสดี ที่แพทย์ส่วนใหญ่จะได้นำไปใช้ ปฎิบัติเพื่อประโยชน์ของประชาชน และพัฒนาวงการในการรักษาทางด้านเวชสำอาง ให้ก้าวขึ้นสู่สากลได้อย่างแท้จริง ❞
❝ สำหรับความเห็นหมอนะคะ ตัว Picosure จากอเมริกา เป็นตัวแรกและตัวเดียว ที่มีความยาวคลื่น 755 นาโนเมตร ตัวนี้สามารถตอบโจทย์ได้ทั้งปัญหาเรื่องเม็ดสี ฝ้า นอกจากนี้ยังจะได้ อย.อเมริกา ในเร็วๆ นี้ สำหรับเรื่องรักษาแผลเป็นหลุมสิว ซึ่งปกติจะมีน้อยเลเซอร์มากที่จะได้ อย. อเมริกา สำหรับรักษาแผลเป็น ❞
❝ ตอนนี้ผมว่าปัญหาของคนไทยจะเป็นเรื่องฝ้า กระ ค่อนข้างมาก และนวัตกรรมตัว Picosure ผมว่าเป็นเทรนที่คนไข้ค่อนข้างให้การตอบรับดีมาก ผมเองค่อนข้างชื่นชอบกับ Result ของคนไข้ด้วยเช่นกัน Picosure ได้ผลตอบรับดีกว่าวิธีอื่นๆ ที่ผมเคยรักษามาเลยครับ ทำ 1-3 ครั้งก็ได้ผลดีมากๆ แล้ว ❞
❝ การที่เราจะนำสิ่งดีๆ มาให้คนไข้ ก็ต้องดูว่าเครื่องมือเหล่านั้นผ่านมาตรฐานที่ได้รับการยอมรับจากสากลทั่วโลกแล้วหรือยัง ซึ่ง Picosure ก็ตอบโจทย์ตรงนี้ได้ดีค่ะ ❞
❝ เดี๋ยวนี้มีเทคโนโลยีที่เข้ามาช่วยในเรื่องจัดการเม็ดสีได้เยอะ ถ้าเป็นตัวที่ผมชอบ ปัจจุบันก็จะเป็นกลุ่ม Pico Technology ผมว่าไวสุดแล้ว ยิงไปหน้าก็แดงนิดเดียว ดีใจครับที่ได้เป็น Partner กับเทคนิคอลไบโอเมด ขอบคุณที่หาเครื่องดีๆ มาให้เราได้ใช้กัน ❞
❝ เทคโนโลยีที่ดีที่สุดในโลก แล้วก็เป็นเทคโนโลยีใหม่ล่าสุดของโลก ก็คือเรื่องของ Picosecond Laser นะครับ ผมเลือกเครื่อง PicoSure นะครับ การที่ผมบอกว่าดีที่สุดเนี่ย นอกเหนือไปจากสิ่งที่เรา Sourcing เข้ามาแล้วว่ามีข้อมูลที่ดี ผมก็ลองกับหน้าผมเองเลยครับ เราจะรู้ความรู้สึกทุกอย่าง เพราะฉะนั้นคือเราต้องมีข้อมูลที่ดีที่ดสุด เต็มไปด้วยการศึกษาทดลองในระดับของ International นะครับ นั่นคือสิ่งที่ผมเลือก PicoSure เข้ามาอยู่ในบ้านหมอฟรุ๊ทคลินิกครับผม ❞
Successful and Rapid Treatment of Blue and Green Tattoo Pigment with a Novel Picosecond Laser
Brauer JA, Reddy KK, Anolik R, et al. Arch Dermatol. 2012;148(7):820-823.
Treatment of Tattoos with a Picosecond Alexandrite Laser: A Prospective Trial
Saedi N, Metelitsa A, Petrell K, et al. Arch Dermatol. 2012;148(12):1360-1363.
Use of a Picosecond Pulse Duration Laser with Specialized Optic for Treatment of Facial Acne Scarring
Brauer JA, Kazlouskaya V, Alabdulrazzaq H, et al. JAMA Dermatol. Published online November 19, 2014.
Picosecond Lasers: The Next Generation of Short-pulsed Lasers
Freedman J., Kaufman J., Metelitsa A., Seminars in Cutaneous Medicine and Surgery. Vol. 33, December 2014.
Treatment of Nevus of Ota with a Picosecond 755-nm Alexandrite Laser
Chesnut C., Diehl J., Lask G. Dermatol Surg. 2015;41:508–536.
Clearance of Yellow Tattoo Ink With a Novel 532-nm Picosecond Laser
Alabdulrazzaq H., Brauer J., Bae YS., Geronemus R. Lasers in Surgery and Medicine. 2015; Lasers in Surgery and Medicine 47:285–288.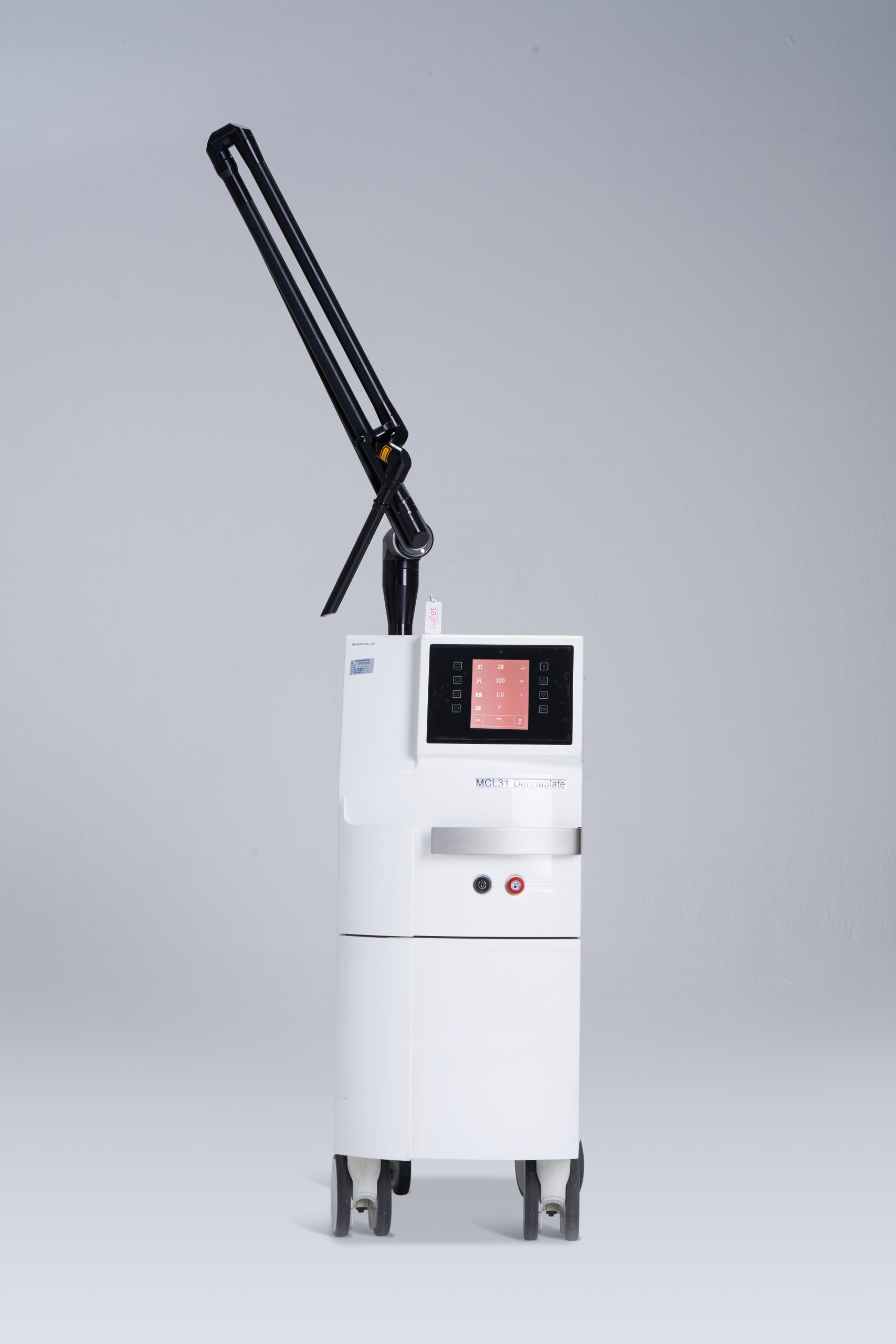 MCL31 DERMABLATE is the highest-performing Er:YAG laser for high-precision skin ablation and fractional therapy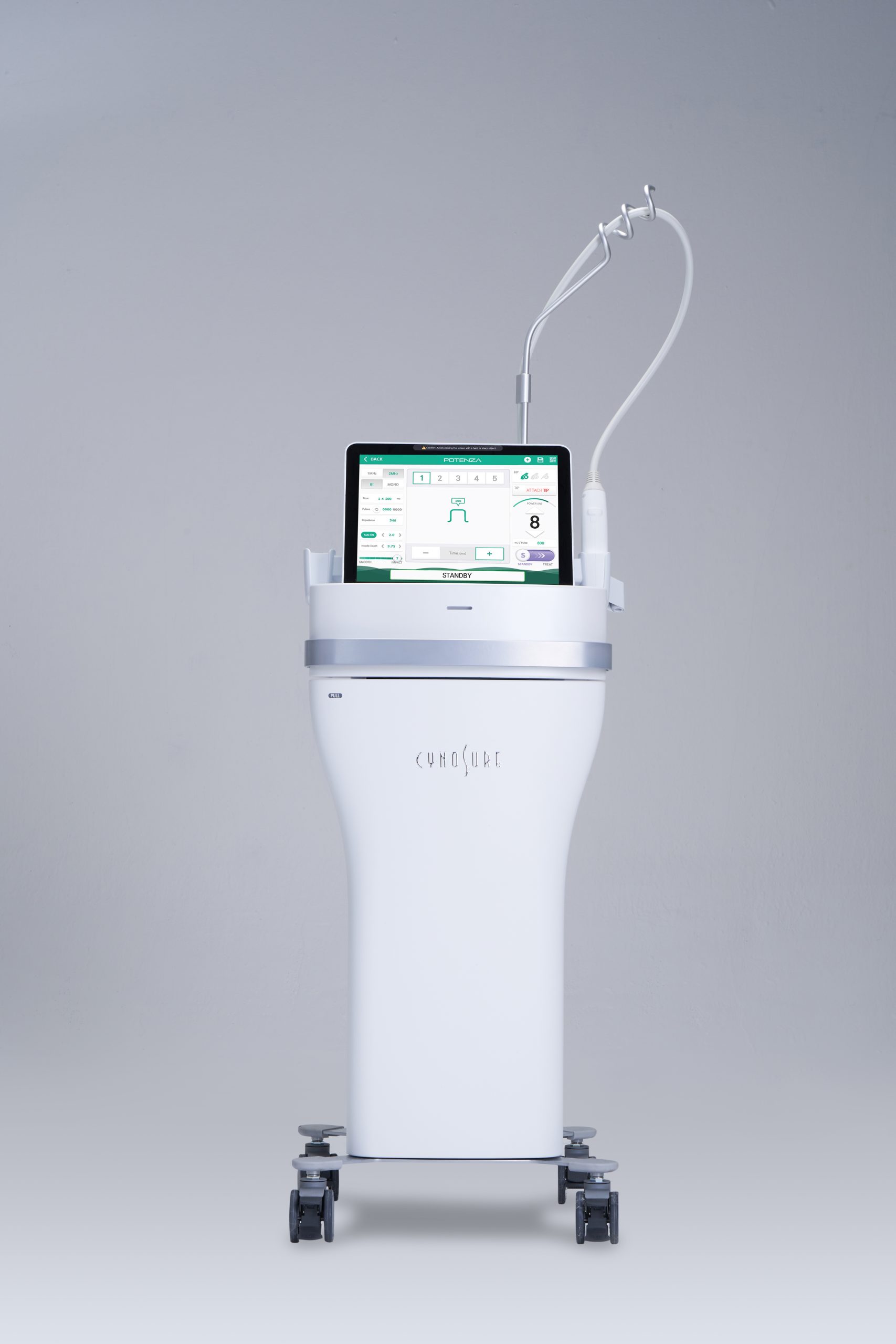 THE WORLD'S FIRST 4-MODE RF MICRONEEDLING SYSTEM THAT COMBINES MONOPOLAR AND BIPOLAR RF AT 1 OR 2MHZ FREQUENCIES IN A SINGLE DEVICE.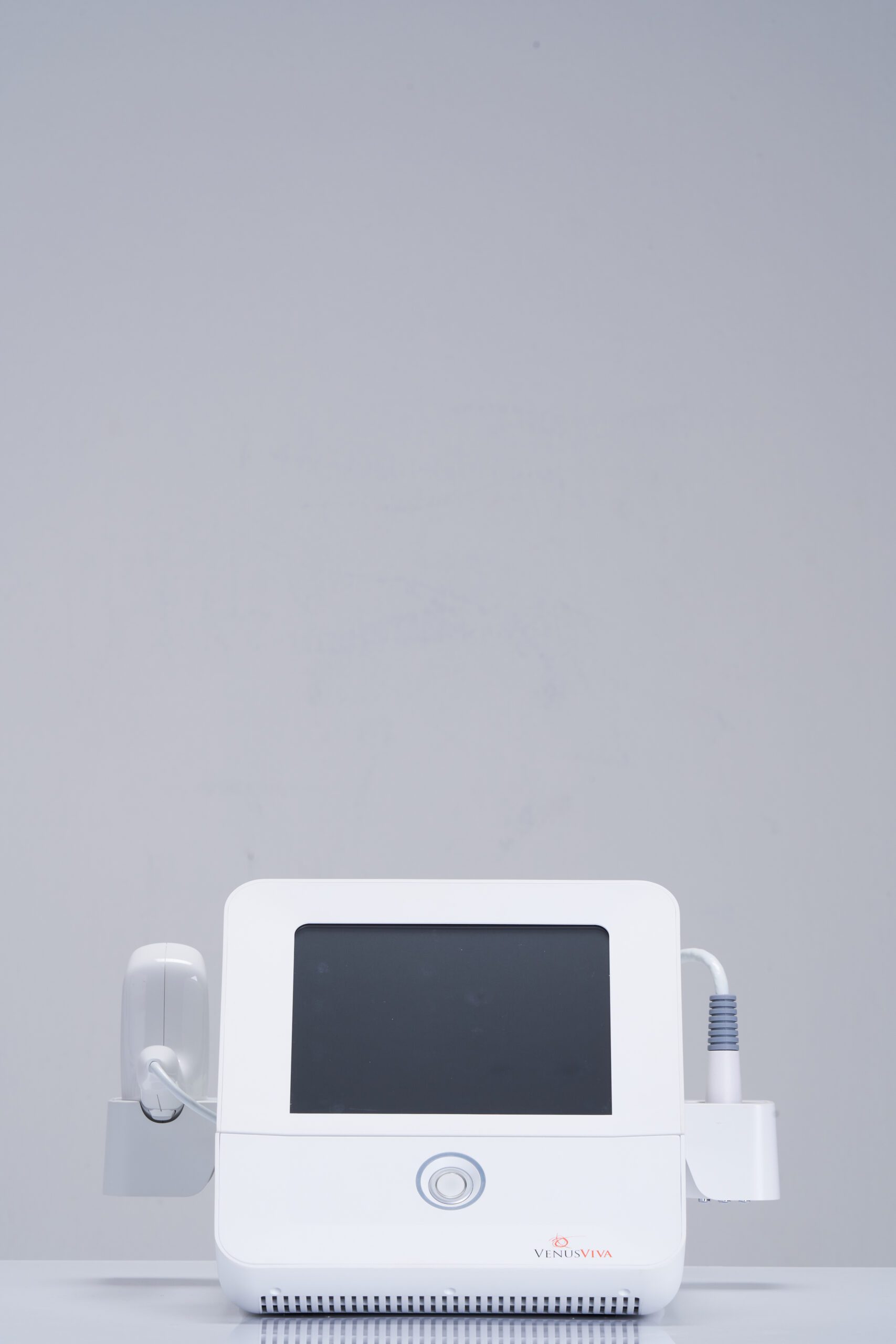 A HIGHLY CUSTOMIZABLE SKIN RESURFACING DEVICE THAT DELIVERS EXCEPTIONAL RESULTS WITH LOW DOWNTIME AND IS SAFE FOR ALL SKIN TYPES.
TO BOOK A CONSULTATION OR DEMO
PLEASE CONTACT US