JULIET - The feminine laser
JULIET เป็น Er:YAG laser หนึ่งในทางเลือกของเลเซอร์ด้านความงาม และมีเอกลักษณ์ในการการดูแลจุดซ่อนเร้นของผู้หญิง โดยเน้นไปที่การ กระตุ้นการสร้างคอลลาเจนและอิลาสติน ควบคู่กับการปรับโครงสร้าง ของเยื่อบุผิวช่องคลอด มีความปลอดภัย ไม่เจ็บ ไม่จำเป็นต้องพักพื้น และเป็นที่ยอมรับจากคนไข้นับพันจากทั่วโลก
เป็นอีกหนึ่งทางเลือก สำหรับแก้ไขปัญหาภายในช่องคลอด จุดเด่นของ Er:YAG Laser คือ การปล่อยพลังงานได้อย่างแม่นยำเพื่อผลลัพธ์ในการฟื้นฟูและสร้างความยืดหยุ่นให้กับเนื้อเยื่อ ทั้งเพิ่มความชุ่มชื้น ให้แก่จุดซ่อนเร้น โดยไม่ทำลายเนื้อเยื่อรอบข้าง ผลลัพธการรักษาจะทำให้ เนื้อเยื่อยุช่องคลอดฟื้นคืนความยืดหยุ่นและความชุ่มชื้น เพิ่มความหนา และความนุ่ม ทุกอาการที่ไม่พึงประสงค์จะลดลงอย่างรวดเร็วหลังจากทำการรักษาเพียงครั้งเดียว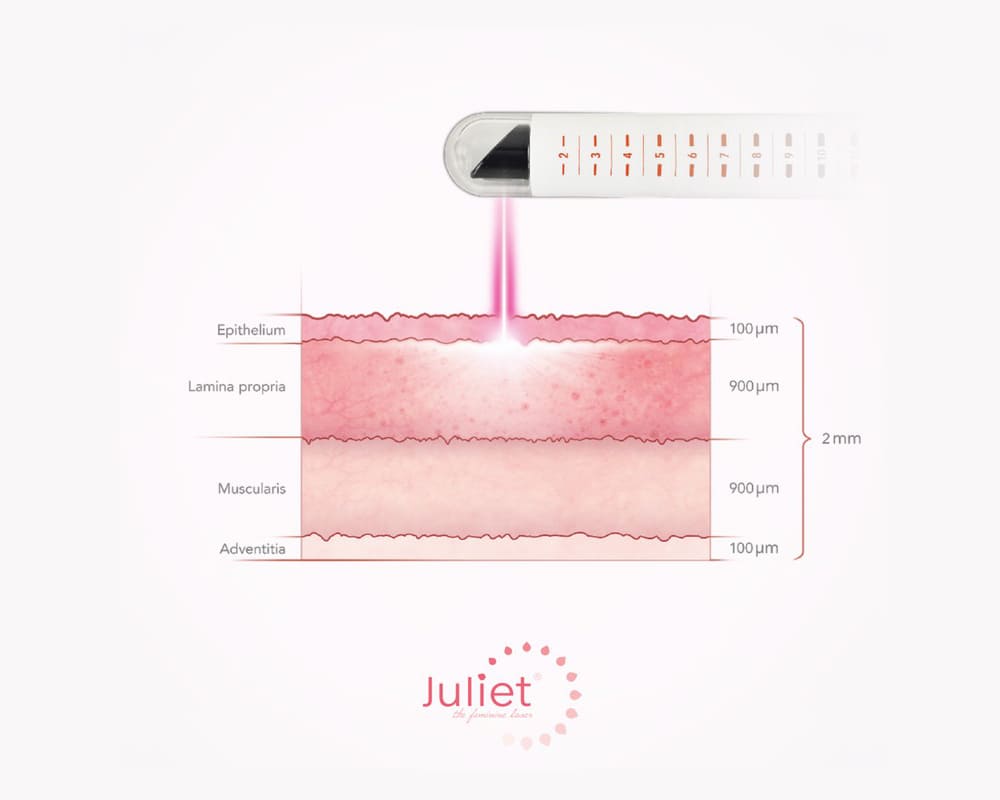 JULIET LASER เหมาะสำหรับใครบ้าง?
ผู้ที่มีปัญหาปัลสาวะเล็ด ขณะไอ จาม
ผู้ที่มีปัญหาช่องคลอดแห้ง และคัน
ผู้ที่มีปัญหาช่องคลอดขยาย หลังการคลอดบุตร
ผู้ที่มีปัญหาเจ็บขณะมีเพศสัมพันธ์
ผู้ที่ยังไม่พร้อมผ่าตัดกระชับช่องคลอด
อุปกรณ์ STERI-SPOT แบบ Single use สะอาด ปลอดภัย และป้องกันการติดเชื้อ
รู้สึกสบายรหว่างทำ ไม่เจ็บ ไม่ต้องใช้ยาชา
ให้ผลการรักษาที่ยาวนาน ทำเพียงปีละ 1 ครั้ง
ไม่ต้องพักฟื้น สามารถใช้ชีวิตได้ตามปกติ
ได้รับมาตรฐานความปลอดภัย US FDA และ Thai FDA
เห็นผลลัพธ์ได้ตั้งแต่ครั้งแรกที่ทำ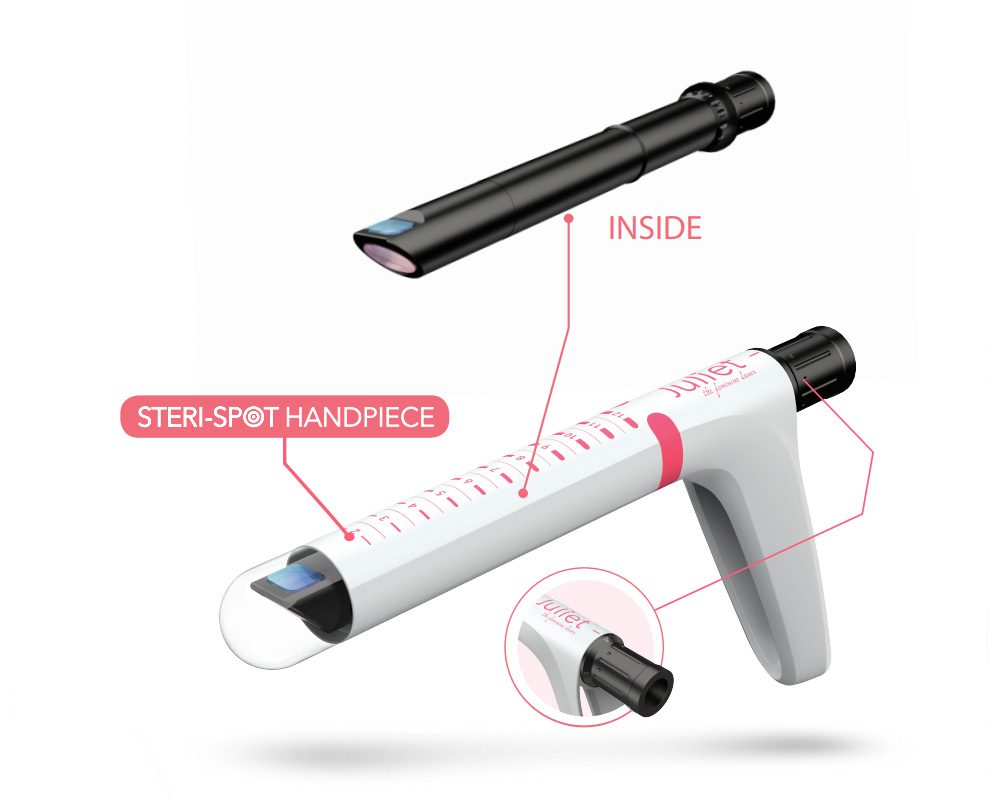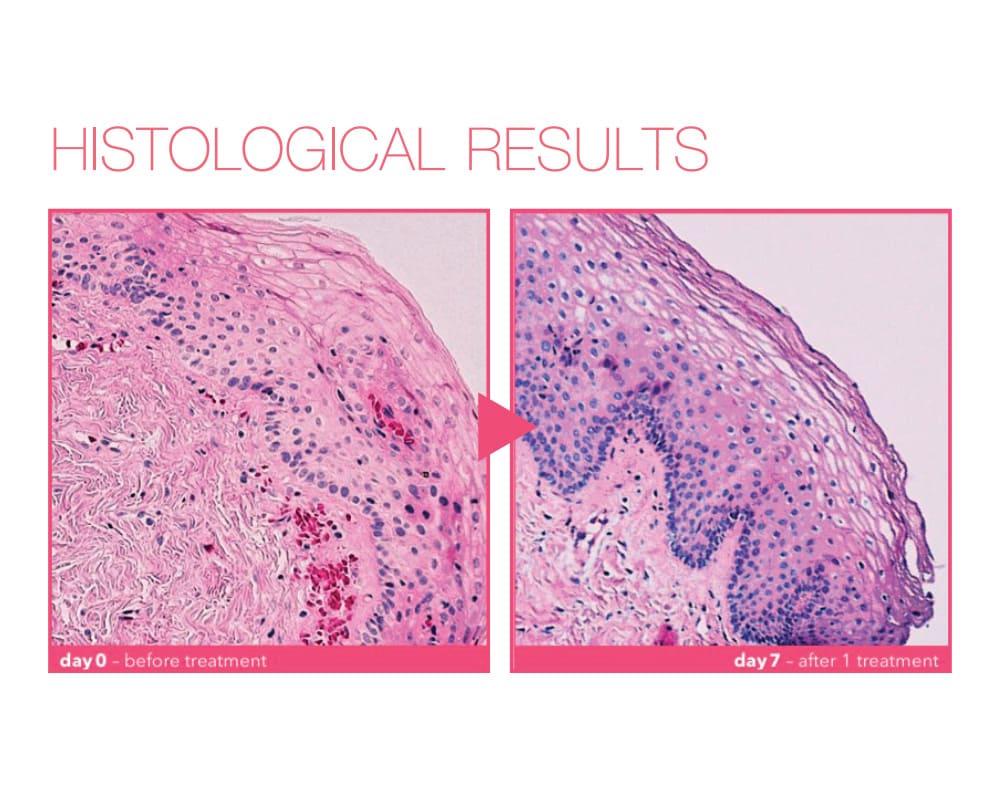 ผลลัพธ์หลังการรักษา 7 วัน จะเห็นได้ว่าเยื่อบุ Epithelium มีการจัดเรียงตัวที่เป็นระเบียบขึ้น พร้อมด้วยนิวเคลียสที่เพิ่มจำนวนมากขึ้นอย่างเห็นได้ชัดเจน ทั้งในบริเวณผิวชั้นลึกและผิวชั้นบน แสดงให้เห็นว่า เนื้อเยื่อมีการเปลี่ยนแปลงไปในทางที่ดีขึ้น
COMPETENCE, EXPERIENCE, SUCCESS
Asclepion Laser Technologies จากประเทศเยอรมนี เป็นหนึ่งในผู้นำด้านการผลิตเครื่องเลเซอร์ระดับนานาชาติ มายาวนานกว่า 35 ปี มีการต่อยอด พัฒนาเทคโนโลยีต่างๆ สำหรับโรคผิวหนัง ความงาม รวมทั้งการผ่าตัด ซึ่งทำให้ได้ผลลัพธ์ที่ดี จนเป็นที่ยอมรับของผู้เชี่ยวชาญมากกว่า 60 ประเทศทั่วโลก
Please enter at least your email address and phone number before submit to download a brochure.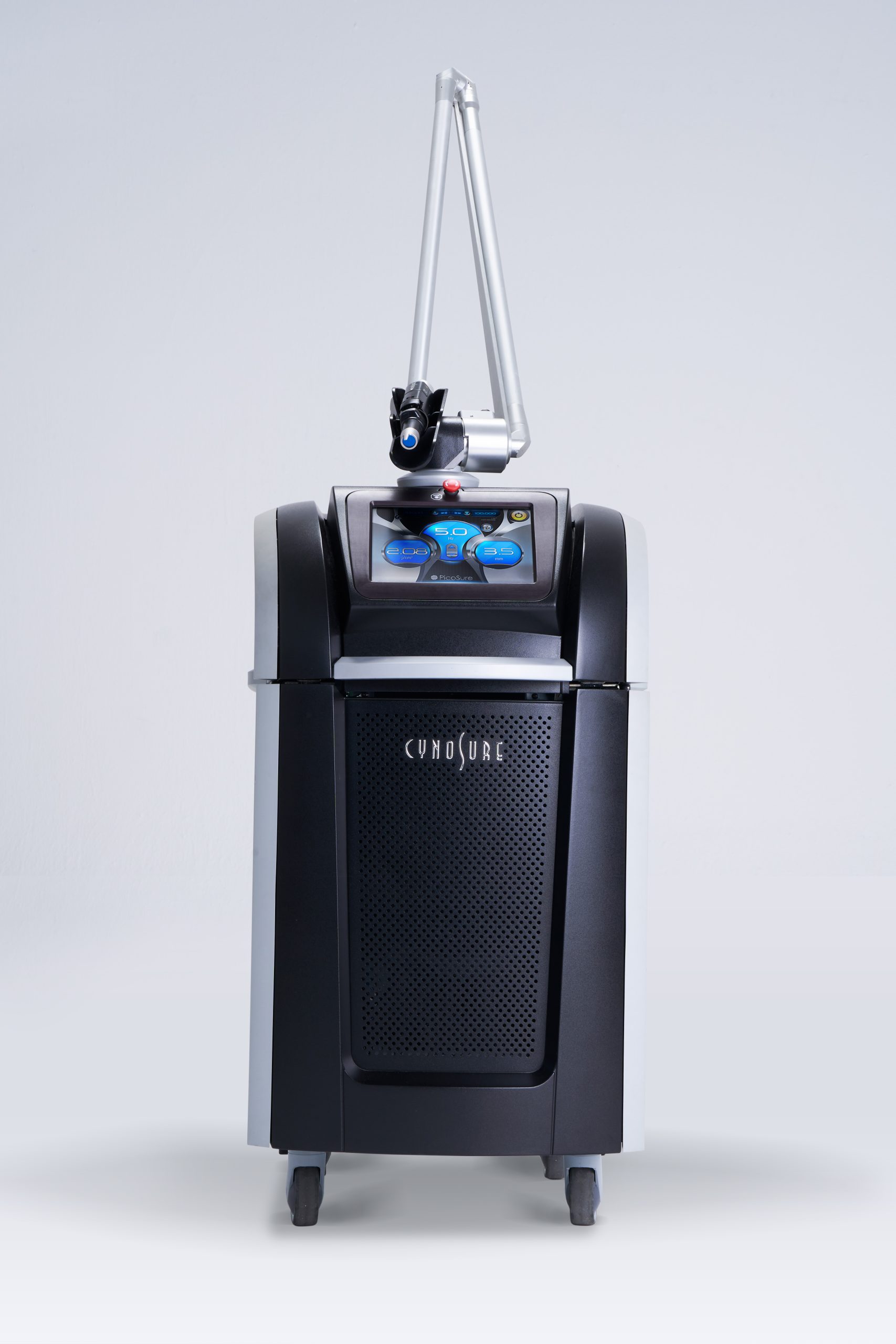 THE WORLD'S FIRST PICOSECOND TECHNOLOGY AND LEADING CHOICE FOR COMFORTABLE AND CONVENIENT TATTOO REMOVAL AND SKIN REVITALIZATION TREATMENTS FOR WRINKLES, ACNE SCARS AND PIGMENT LIKE FRECKLES, SUNSPOTS AND DISCOLORATION.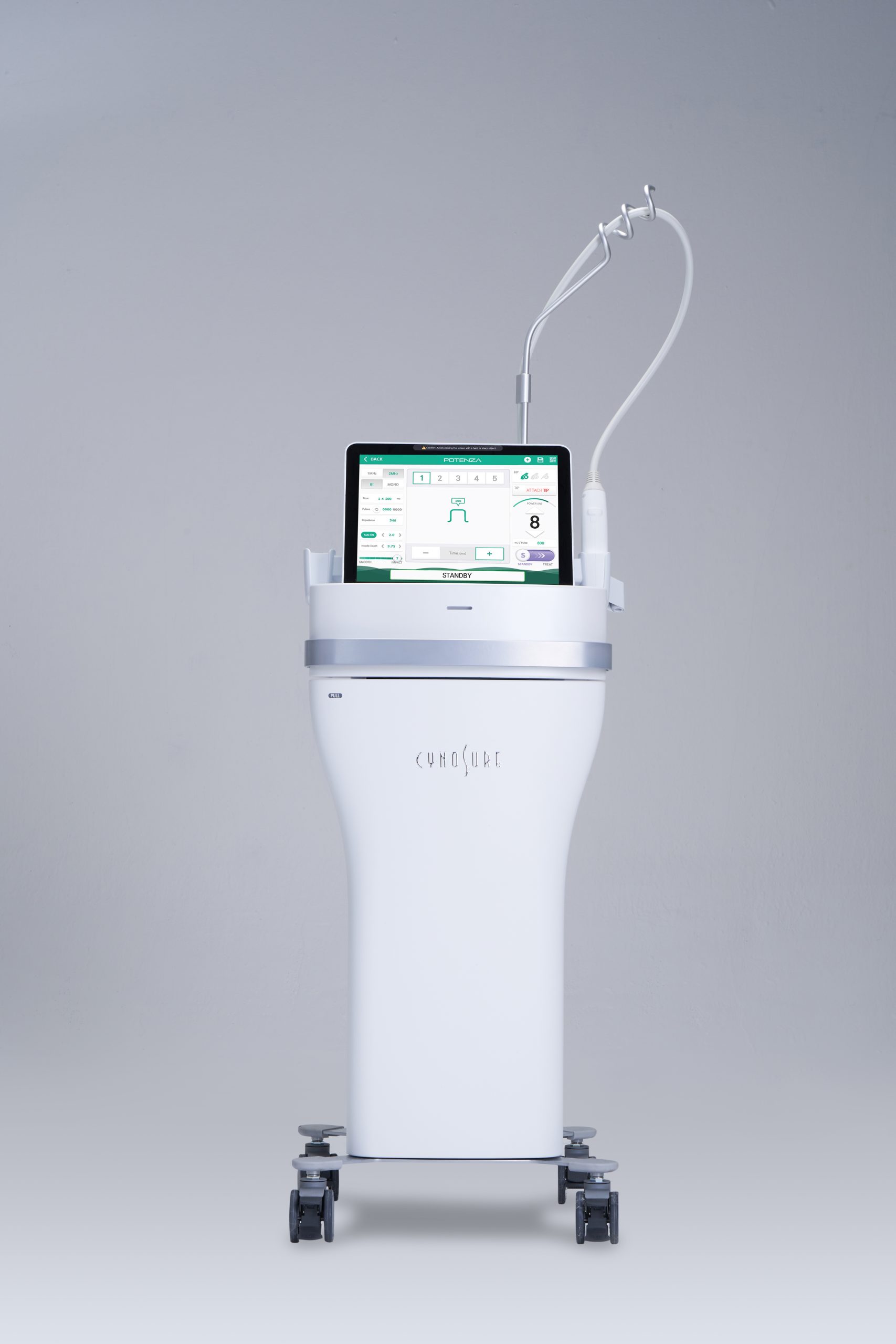 THE WORLD'S FIRST 4-MODE RF MICRONEEDLING SYSTEM THAT COMBINES MONOPOLAR AND BIPOLAR RF AT 1 OR 2MHZ FREQUENCIES IN A SINGLE DEVICE.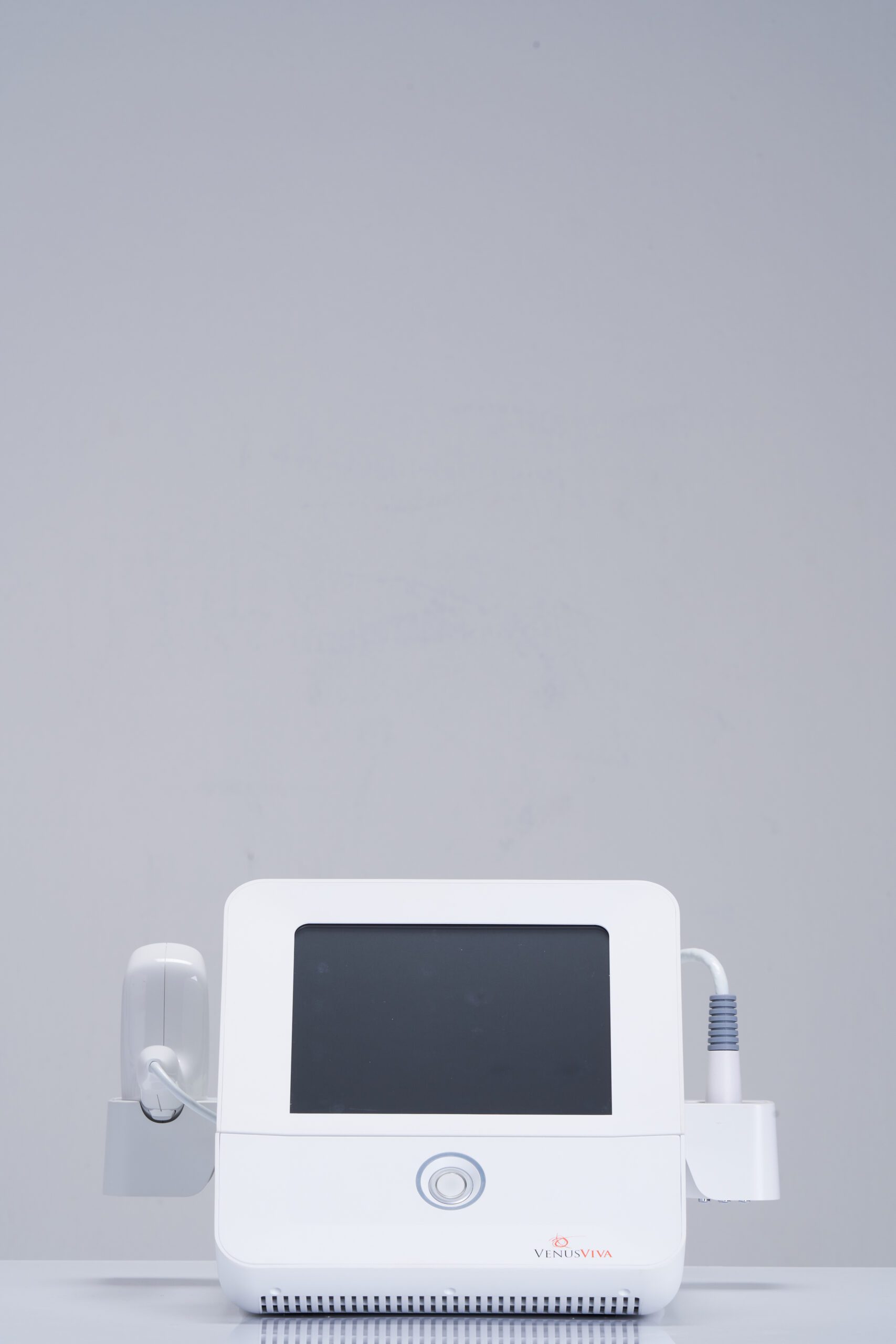 A HIGHLY CUSTOMIZABLE SKIN RESURFACING DEVICE THAT DELIVERS EXCEPTIONAL RESULTS WITH LOW DOWNTIME AND IS SAFE FOR ALL SKIN TYPES.
TO BOOK A CONSULTATION OR DEMO
PLEASE CONTACT US